Have you been hearing about what landing pages are lately?
As a new blogger, there are so many new terms and tools that it can be overwhelming for sure! That's why I created this Blogging Basics series!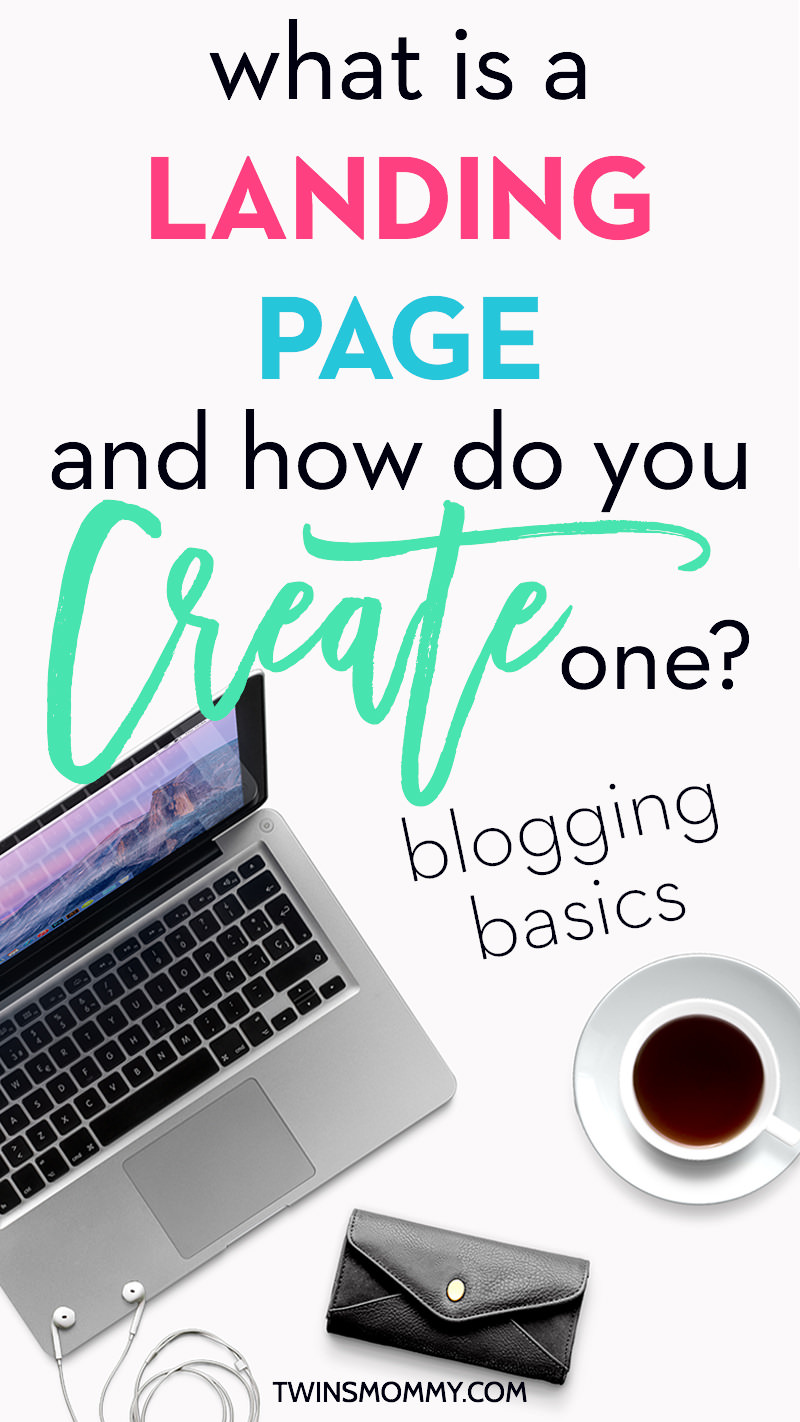 It sort of breaks down how to get going as a new blogger. And for many newbies, you'll be hearing a lot about landing pages and how you should have one if you want to grow your email list or income.
Let me just say that I don't use a lot of landing pages. Instead, I use dedicated pages on my site to help me grow my email list. I'll go into the differences between a page and a landing page for a moment.
If you're new to all of this and want to start a blog, I made a real easy step-by-step tutorial on how to start a profitable blog.
So, what is a landing page and why should you have one?
What is a Landing Page?
In the simplest terms, a landing page is a place a user ends up after clicking on a link on social media, in your email or on an ad. It can also be your website's home page.
A landing page has only one purpose and one message.
For example, Meera Kothand's Facebook page has a sign-up button.
When you click on her sign up button, you are taken to a landing page. It's a free download of how to create a lead magnet that everyone is dying for.
This landing page has only one purpose: to get more email subscribers. And Meera's only message is for people to download her free guide.
By having only one focus, you can convert more people to be subscribers or buyers. But, what do I mean by one purpose?
Well, landing pages shouldn't have:
Social sharing buttons
Other links (having a link to read your blog is fine)
More than one call-to-action (i.e. download this guide and tweet this!)
A menu
If you notice, Twins Mommy has only a few landing pages. Typically, I am just using pages on my WordPress site to promote my lead magnets (or freebies).
These pages have a menu, but I treat them as a  little blog post where I talk about the free guide or how it can help you if you downloaded it. By creating a page, I can create a pin just for my lead magnet.
Different Types of Landing Pages
A transition to using a landing page is using a scroll mat or welcome mat. These are the mats that slide down when you land on someone's blog.
For example, this is a welcome mat on Francesca's blog, From Pennies to Pounds.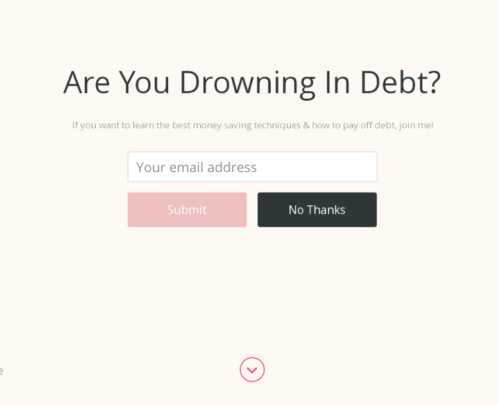 The main purpose is to generate more subscribers. If you don't sign up, you just click on the down arrow, and it will move down to the blog.
Personally, I'm not a fan of welcome mats that display on all pages and show itself to me if I visit the same blog multiple times in a week. But, they can be a powerful tool to generating more subscribers if you have the right call-to-cation (message or question).
Another way to display your landing page is as an exit strategy. For example, Brianna of Momma Works Too doesn't show her landing page until later when you are about to leave or after a set time you are on her blog.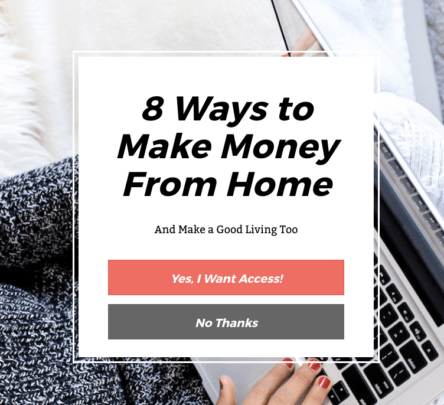 I like this approach better as it's not as intrusive as a scroll mat.
Can you use your home page as a landing page? Sure, you can. A lot of bloggers do this and typically give you two options: to sign up to their list or visit their blog.
How Landing Pages Can Help Grow Your Blog
Landing pages are quite effective since they only give a reader one (maybe two) choices. The less choice someone has, the greater likelihood they will choose.
As I mentioned earlier, it's a great way to generate more email subscribers. I would recommend a landing page if you are intending to release a product in the future (or have one right now) and need to grow your email list.
If you aren't sure about an email list, having a large list (or any list size) will generate more sales of your product since the conversion rate for emails can be as high as 3%.
This means that landing pages can help you generate more money.
So, the process goes like this:
Sign up to list
Receive freebie
Follow up welcome email
Education email
Agitation email
Solution email (pitch to product)
That's a shortened version, but a sales funnel has those topics to move from a reader to a buyer. The point is, to get them on your list so you can share your great tips and introduce them to your amazing product.
Finally, a landing page can help you refine your brand message. If you started a blog and had no goals or plans, then a landing page isn't for you.
But, if you want more subscribers, you can use a landing page to brand yourself in a way by what you are offering. This means niching down and creating lead magnets (freebies) that align with your niche and speak to your audience.
I've created freebies that haven't aligned with my core audience, so it's a hit and miss with your lead magnets. Just keep trying new guides, resources, checklists, etc.. and seeing what resonates with your audience.
How Do You Create a Landing Page?
There are tools and services that can help you create a landing page, but what I've found to be the easiest is using ConvertKit.
ConvertKit is an email service provider that allows you to grow your email list. They also provide opt-in forms so that readers can give you their email address and you can give them your free guide.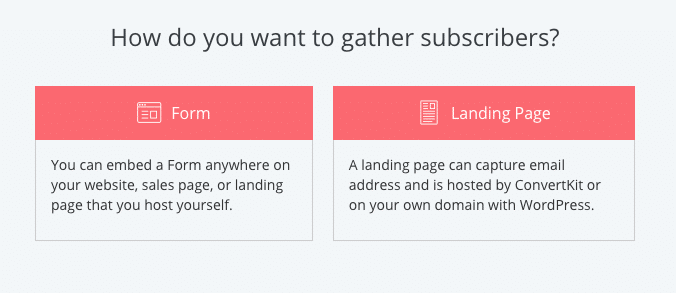 ConvertKit walks you through setting up your landing page by first picking a template.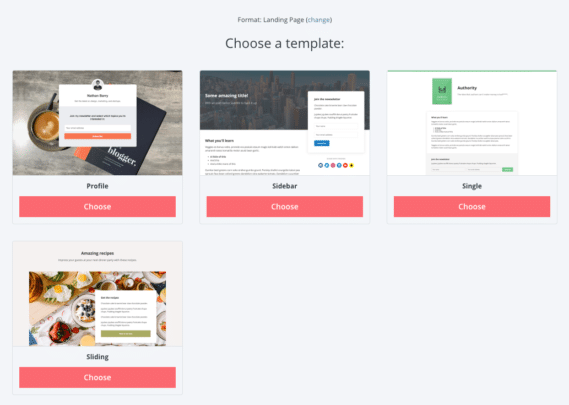 It doesn't matter which one you pick, as long as you like the look and it fits your blog and brand. After you choose one, you can customize the heading, image, and color of the button and background color.

Here is an example of what a landing page using ConvertKit might look like after you customize it.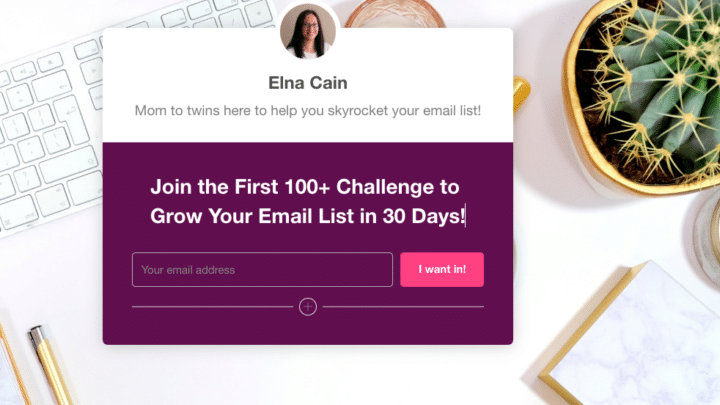 Once you have it looking like the way you want, next you have to set up the backend of naming your lead magnet and deciding if you want double-optin or single.
Double means readers will receive an email to confirm their address and be placed on your email list. They will then receive another email to download the freebie.
Single means once they put sign up, they immediately receive the freebie. Double-optin helps fight off any spammers that might go on your list or those that just want the freebie and don't want to follow you. So, it's up to you!
From there you can either host your landing page on ConvertKit – they will give you a URL that you can link to in your blog posts – or you can grab their free plugin and host it on your blog.

Once installed, go to the plugin Settings and grab the API key and API secret (just click and find the code and copy and paste).
When you do that, WordPress will generate all the email optin forms you created.
What Is a Landing Page Answered!
Landing pages 101 for the new blogger! Landing pages aren't that hard to use or scary to use! It's a great way to start growing your email list, and I sure have to get on that bandwagon soon!
This post was originally published on TwinsMommy.